What Is Porsche Communication Management?
The automobile industry has significantly availed from technological advancements. Integration of technology elevates the driving experience, safety and overall efficiency of a car. A prime example of technological inclusion and its positive impact on the car is the infotainment system. Unlike traditional infotainment systems, the modern one serves multiple purposes and also enhances the driving experience. In fact, many leading brands including Porsche have launched their infotainment systems with varied features. The Porsche Communication Management (PCM) system serves as central control of multiple car features.
Let's dive a little deeper and elaborate on: what is PCM in a Porsche? What features does it provide and what are its benefits? 
PCM in Porsche
PCM serves as a central control unit for different functions including navigation, communication, audio and other standard functions. To operate all these functions, a high-resolution screen is present at the centre of the dashboard. In simpler words, Porsche's PCM is an advanced version of the infotainment system which is more efficient than the traditional ones.
The PCM's screen is similar to that of a mobile phone which helps in controlling features conveniently. Users can even set their most-used features on the home screen for easy access. Mentioned below are some major functions of Porsche's PCM. 
Features of Porsche Communication Management
PCM controls many functions which help drivers to connect with their Porsche and environment. Mentioned below are the core features of PCM that you can avail of.
Audio: PCM can control the volume, tone and balance of the audio system. Moreover, the system can be used for listening to radio, music or podcasts. 
Navigation: PCM not only provides maps for navigation but also provides real-time traffic updates to avoid traffic jams.
Connectivity: PCM can synced with the driver's mobile phone to call and access contacts with convenience. 
Vehicular Control: All the basic vehicle functions like controlling light, climate control and adjusting seats can be managed through the PCM. 
Porsche Connect: The Porsche Connect app and PCM can be synced allowing drivers to browse through different features of the app. 
Drivers' Assistance: Aside from basic controls, driver-assist features such as a forward collision avoidance system can be controlled through the PCM. 
Battery Information: In case your vehicle is a hybrid, the PCM shows all the details regarding the battery life and vehicle performance. 
Pros of Porsche Communication Management
Now that you are aware of the functions and assistance provided by PCM it's time to move on to its benefits. Here we have listed some pros of using the Porsche Management System. 
Technologically Efficient
PCM is a technologically advanced feature providing real-time information regarding roads and traffic. The high-resolution screen and maps shown in 2D and 3D enable drivers to avail of the navigation properly. 
User-Friendly
The PCM's screen has an easy-to-navigate menu and all the major functions are easily accessible. Aside from the touchscreen, functions can also be controlled by the buttons and rotary push buttons present along the screen. 
Speaking of touchscreen, Porsche Taycan has one of the biggest car screens, almost 16.8 inches.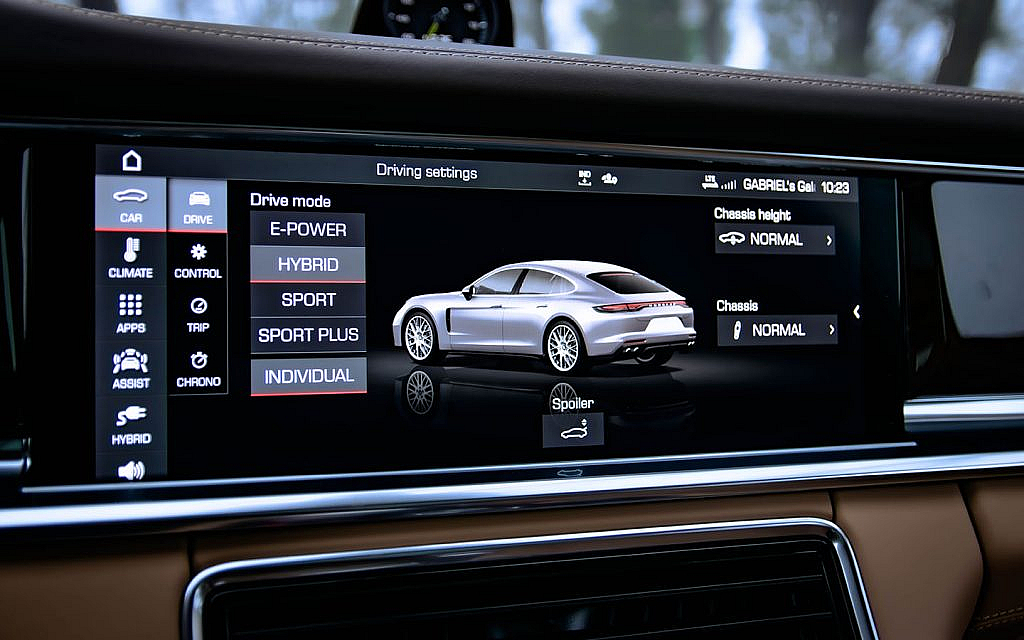 Higher Connectivity
PCM supports both Apple CarPlay and Android Auto resulting in increased connectivity. Moreover, it has a USB and iPhone port that can be used to connect phones to cars. Drivers' can also access other features of smartphones by connecting phones and PCM through car Bluetooth.  
Information Collection
The TRIP computer of the PCM collects real-time driving data that can be used by the Advanced Driver Assistance System (ADAS). Information like the distance covered, driving time and fuel consumption are collected and analysed to predict any malfunctioning auto parts.   
What is PCCM & PCCM Plus
Porsche Classic Communication Management (PCCM) and Porsche Classic Communication Management (PCCM) Plus are Porsche's PCM that can be integrated into classic cars of the brand. The PCCM and PCCM Plus have more or less similar functions as the PCM; however, the first two are specially designed to be integrated into previous models. 
The PCCM and PCCM Plus are available in three different versions:
A 3.5-inch display for the cars with smaller radio slots. 
A 7-inch display for all vehicles of 911 ( 991 I), Cayman/Boxster (987 I) and Cayenne first generation released till 2008. 
This was all about Porsche Communication Management and its functions. PCM is the advanced version of the infotainment system integrated with a number of features to facilitate and entertain passengers. If you are also interested in availing the PCM, browse through these used Porsche cars for sale in the UAE and buy your very own Porsche. 
Besides, if you want to leverage PCCM and PCCM Plus, here are some top places to buy classic cars in Dubai and other Emirates. 
Stay tuned to dubizzle's auto blog for more information on Porsche Communication Management's price.